The Starlight Parade Returns To Portland 2022. Rain? Yes, It Was Wet. Tonight All Of Junk-N-Joe Employees Are Back In The Parade. Come See Us Between 7-9 PM We Will Be Giving Out T-shirts And Other Items.
We Follow Behind The Paraders And Pick Up All Of The Trash And Dispose Of It appropriately. Joe Doud And His Crews Look Forward To Donating Their Time And Resources To Help Out The City Of Portland. This is his twentieth year serving the Rose Festival.
Joe Doud enjoys serving the community and picking up the garbage and junk after the parades in Portland. Tonight we are at the behind of the Parade and our crews pick up the trash bags along the way. Cleaning up the city one truckload at a time Joe and his crews have been doing the parades for decades. Into his late 60s, Joe still gets excited about the Portland City Fair and makes sure he is involved in the cleanup and recycling process.
You can see Joe below photographed in front of one of his trucks. If you need help with junk removal or demolition work give us a call or book your appointment online. The Starlight Parade was showered on the year and everyone did a great job.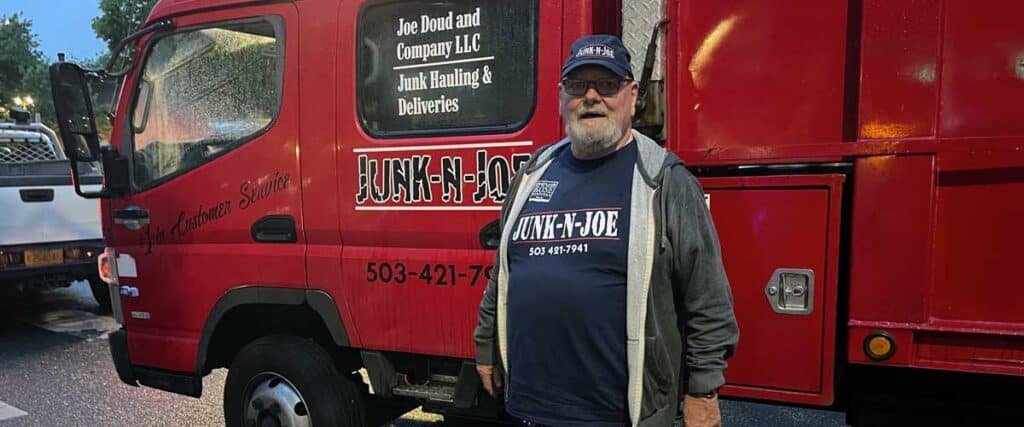 One Of The Crews Loading Up Garbage Bags Collected From The Rose Festival "Starlight Parade."

Pictures coming…..
Whenever possible, we strive to give back to the community. We will find a home for your junk if it can be reused or recycled. Our services are easy to use and involve no hassle. With Junk-N-Joe, recycling and disposal are a breeze. There are no hidden fees.