Reducing Waste And Supporting Sustainability efforts
Get To Know This Father-Daughter Duo.
Want to know more about us before you do business?
Meet Joe Doud. As a native Oregonian, Joe has raised his family here in Oregon. This is his home and he is very active within the community.
Joe has over 40 years of experience in waste management and garbage collection, which he is bringing to residential, business and municipal junk removal customers. Junk-N-Joe and Joe Doud are passionate about recycling and have policies in place to maximize the amount of junk that is diverted from the dump.
Over 22 years at MDC (Metropolitan Disposal Company), Joe was active in participating with the Portland Rose Festival cleanup. Doud set up the recycling program at the Portland International Airport and was an integral part of the pioneering of the wood recycling program in place today for Portland.
Set up the recycling program for the Portland Parades and Fun Center.
Member of Rose Festival board of directors for 4 years.
The Rose Festival board recognized Joe Doud as Volunteer of The Year in 2016 with an award for all of the work he has done over the years. Almost 3 decades of volunteerism to the city of Portland and the Rose Festival.
Junk-N-Joe junk removal is the DBA for Joe Doud And Company LLC. Junk-N-Joe is a project of Joe Doud. His vision of bringing the future of junk removal to Oregon.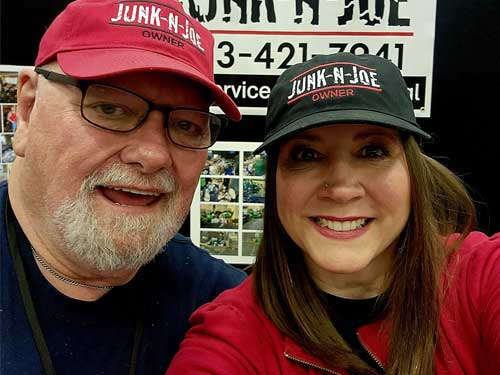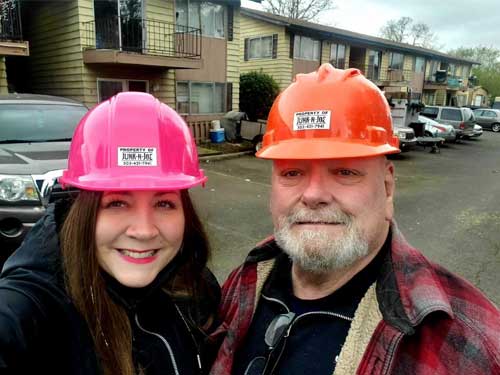 Owners: Joe Doud, Gloria Doud
Gloria Eggers is a co-owner of Junk-N-Joe, bringing valuable customer service and management skills to the company. Customers highly appreciate interacting with Gloria, whether it's for booking new service orders or simply chatting. Her name frequently appears in the numerous positive reviews on Google, highlighting her exceptional customer service and management abilities.
Outside of work, Gloria is a dedicated mother, raising a son and a daughter in the Portland metropolitan area. When she's not busy at work, she devotes her time to taking care of her children and managing their activities. Family is important to Gloria, and she thoroughly enjoys her family life. Additionally, Gloria is known to be a loving and devoted wife.
Growing up locally, Gloria attended Centennial High School, where she was actively involved in playing basketball. Following her high school years, Gloria continued her basketball journey at Warner Pacific College. As a talented player, she made a name for herself on the local court while pursuing her bachelor's degree.
Gloria's amiable nature and exceptional skills have earned her the respect and admiration of the employees at Junk-N-Joe. They hold her in high regard, appreciating her likable personality and the positive impact she brings to the workplace.
Why Pay more for less? Call now for a free no obligation Estimate.
Areas We Service
Our Portland location proudly provides service to the Greater Portland Metro Area and surrounding cities.
Cities include: Gresham, OR, Troutdale, OR, Fairview, OR, Sandy, OR, Damascus, OR, Eagle Creek, OR, Estacada, OR, Beaverton, OR, Aloha, OR, Cornelius, OR, Forest Grove, OR, Gladstone, OR, Hillsboro, OR, King City, OR, Lake Oswego, OR, Milwaukie, OR, North Plains, OR, Oregon City, OR, Portland, OR, Vancouver, WA, Sherwood, OR, Tigard, OR, Tualatin, OR, and West Linn, OR.
We service the I-5 corridor from Salem, OR to Longview, WA.
Cleaning up the city. One truckload at a time.