Need A Building On Your Property To Be Torn Down And Hauled Away?
Shed, Barn, Unattached Dwelling Unit Tear Down And Disposal Service In The Pacific Northwest. Our Crews Will Remove The Building From Your Property And Clean Up The Area.
Whether you inherited a shed or outbuilding through a new property purchase or the one you built is no longer structurally sound, it's time to tear it down.
Do you need shed removal and unattached dwelling disposal service within our service area? This summer is the perfect time to remove your shed, outbuilding, or UAD from your property. Junk-N-Joe will tear down, clean up and haul away the complete structure and all contents you tell us to take. As long as there is no live power and electricity running to the building, we will make sure your space is clear in record time.
Fast and easy junk removal services. Shed removal and unattached dwelling disposal services are available now. Same or next day service is often available. A 5-star company on Google and Facebook.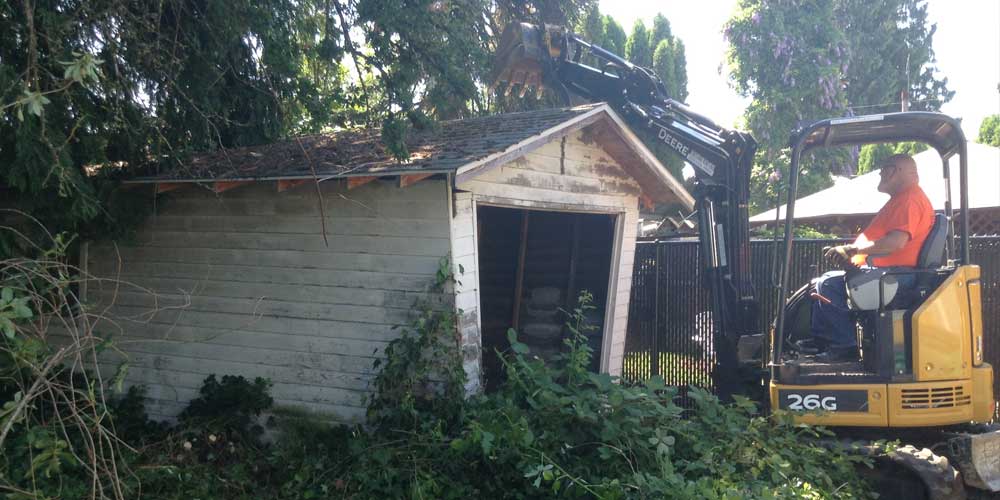 How Our Shed Removal Services Work.
Our Simple 1, 2, 3,  Process 
You don't have to do it yourself you can save money, time, and back pain by using our services instead of paying permit fees and renting a dumpster. Our services are easy to use and involve no hassle. With Junk-N-Joe, recycling and disposal are a breeze. There are no hidden fees.
Step Number 1: For junk removal, please call our telephone number above or use our online form. Please let us know what you need and we'll provide an estimate at no charge. Our prices include labor, dump fees, and disposal. Appointments can be scheduled at your convenience.
Step Number 2: Once our crew arrives on time, they will confirm the estimate and go over what needs to be removed. You can count on them to carefully and efficiently load, sweep up, haul away, and dispose of your items the green way! Are you considering donating any items? Do you have a specific charity in mind? Let us handle it!
Step Number 3: Upon completion of the job and your satisfaction with our service, payment will be collected. Please note that we only accept cash or credit cards.
Whenever possible, we strive to give back to the community. We will find a home for your junk if it can be reused or recycled.