Has your hot tub fallen into disuse or despair due to old age, disinterest, or disrepair? Or is it an unwanted fixture around your home?
If you are looking for information on how do you get a hot tub out of your backyard then you are in the right place. We have moved hundreds of hot tubs out of backyards, and condominium balconies.
Attempting to move a hot tub on your own could result in injury or damage to the home. The process of hot tub removal can be dangerous, leading to sprains and serious back injuries when done incorrectly. Even if you can find some friends who are willing to help you, hot tub removal can be very tricky. It's a labor-intensive process that requires professional dismantling and quite a bit of heavy lifting.
Bring in the pros from Junk-N-Joe to haul your hot tub away so you can enjoy the new free space. We also offer yard clean-up services, meaning we can leave your yard looking as good as new. Call us today to schedule to get rid of your hot tub for good, or schedule online 24-7 365.  Our professional, and courteous, uniformed crews will remove your old hot tub from your backyard in no time and clean up after ourselves.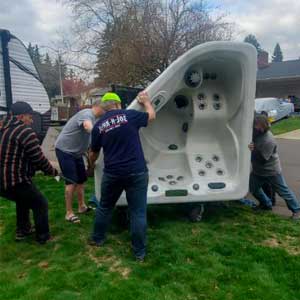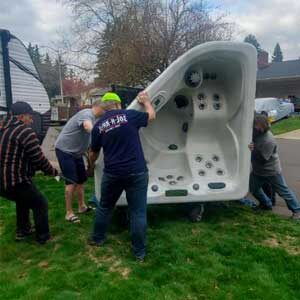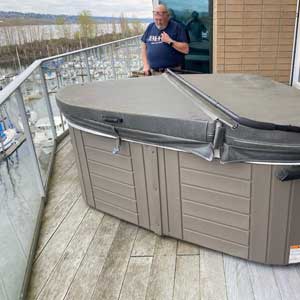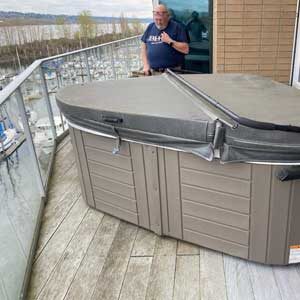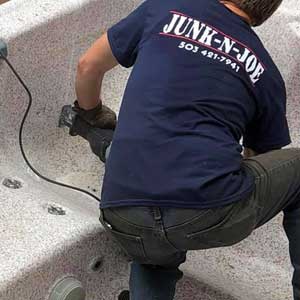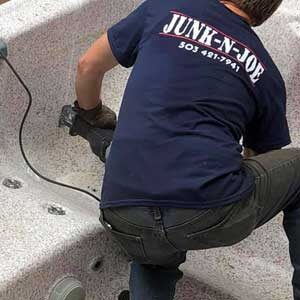 How Does Hot Tub Disposal Work?
Hiring a professional junk removal company in Portland is by far the most practical approach to hot tub removal. Having our professional and insured large appliance removal crews take care of everything will save you time and give you peace of mind.
One of Junk-N-Joe's primary services is hot tub removal, and our Portland hot tub removal crews are some of the best around. Each member of our team is equipped with the training and tools they need to do their jobs effectively every time. In addition, we prioritize recycling, so your junk won't end up in landfills.
We are by far the most convenient, environmentally friendly, and cost-effective way to remove your hot tub. Before we arrive on-site, we'll call and give you a free estimate based on how much space your hot tub takes up in our truck.
How To Prepare For Hot Tub Removal?
To get your hot tub or Jacuzzi ready for removal, there are a few things you'll need to do ahead of time:
Disconnect the power supply
Unhook all the tub's electrical wires
Drain the water; if your tub doesn't have a drain, you can manually pump the water out
Disconnect the plumbing lines
You can let our hot tub removal crew handle all of the disassembling and removing of the hot tub accessories, heaters, and plumbing if you do not have the experience. It takes more than one person to move a hot tub, and we're happy to help.
And, we take all hot-tub related junk:
Hot tub covers
Floating dispensers
Tables, trays, and foot baths
Pool accessories and parts
Above-ground spas
Hot tub decking
Spa sound systems
Inflatable hot tubs
Walk-in bathtubs
Hire the best junk hauling company in the business to handle the heavy lifting. You can count on us to meet all of your hot tub disposal needs.